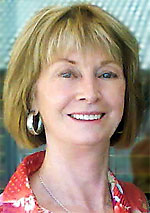 Faye originally started painting in oils until she joined the Watercolour Society of Queensland and discovered the beauty of watercolour.
For many years watercolour has been her favoured medium. More recently the vibrant colours of pastels have captured her interest and many of her current works use pastel.
Faye also paints in acrylics and with combinations of media including inks, charcoal and collage to produce mixed media works that are a new and exciting challenge.
Although Faye's paintings are mainly realistic she injects colour, movement, and texture into her work, giving a painterly effect to whatever she is portraying.
While she enjoys painting cityscapes and still life, her paintings cover a broad range of subjects including seascapes, landscapes and floral subjects. Recent travels to Italy, France and the UK have inspired her with a whole range of new sights and scenes to paint.
An award winning Brisbane artist, Faye has been successfully exhibiting and selling her work at galleries and art shows, and has been asked to donate paintings to Charity Auctions.
Her paintings are held in private collections in Australia and overseas.
Faye is a member of Clifton Hill Art Group, Pastel Society of Australia, Artists Guild of Australia and Redland Yurara Art Society.